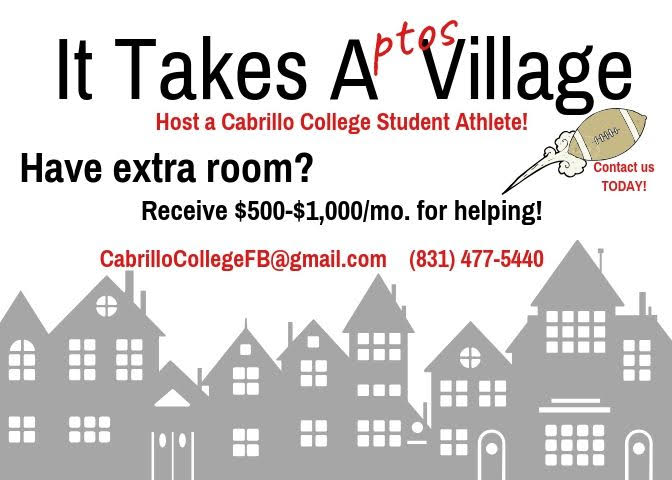 Cabrillo College Athlete Hospitality (Program Suspended till 2022)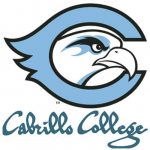 Here's an update from Katcha Burnett, katcha.burnett@gmail.com, 11.26.19.
Three football players decided to take up offers on housing with TLC members.
Jesse and Gusto are staying with Ms. Porter. Reports from player to coach and coach's interaction with me is that this has been a wonderful opportunity for the players. They are very grateful to someone stepping up out of the crowd and saying "I have a little extra space if that helps."
Royal is staying with Lisa and Steve. Player and coaches have a tremendous gratitude for this family that has literally reached out and embraced them. Lisa and Steve also help on Tuesdays and Thursdays with cooking for and the feeding of players and coaches. Not a week goes by where a coach doesn't thank me for Lisa and Steve. The coaches who have always done the cooking twice a week at the end of their day can now have two meals a week with their players. This is a lot of work for Lisa and Steve… it is the end of their day too! I am very thankful for them as I watch their hard work facilitate relationship.
Cabrillo College Football is reaching out to the Faith Community for help in providing housing and food for a few of their new recruits. As a result of a friendship I developed while coaching at Cabrillo in 2009-10 there was discussion between the Coach who oversees player recruitment and myself on how to meet the needs of athletes that come from out of town to play football at Cabrillo. Several players were in a situation where they were living out of their cars, staying on couches in coach's offices or couch surfing with friends. For many the best meal they received during the week was the team dinner on Friday nights before the game on Saturday. As a result we are reaching out to the community and especially churches who would be interested in providing hospitality to a young man who is working hard to improve his life or make changes that will enhance their future.
REESE BUCK'S PERSONAL STORY
"Hello, my name is Reese Buck, let me introduce myself. I am a student athlete from Bend, Oregon. I have lived here the majority of my life with my parents and two older brothers. I have competed in football, baseball and wrestling in my four amazing years at Bend Senior High. In my four years of being a student athlete I have maintained a 3.7 GPA challenging myself in rigorous courses such as IB math and Ap Psychology. I am contacting you today because of my need for financial support. When filing for FAFSA, I was required to submit my families taxes for 2015. Unable to file taxes for 2016 (which is when we took a big financial hit). My mother was laid off in 2016 bringing our finances down dramatically, and causing my mom to have to re-enroll in school. The reason filing 2015 taxes was an issue is because we made too much money that year to receive any money for my college tuition.
My problem lies in the issue that I am trying to attend and play football at Cabrillo College in Aptos, California. With our present finances I will not be able to attend and my dream of continuing the sport I love will be crushed. I am contacting you today to help me understand my need for financial help and why I feel I deserve it and what a great opportunity college football will be for me. It will shape me into a better man and help me build my already tremendously competitive attitude. Thank you for you time and I hope we can see eye to eye in why I need help to help pursue my dream."
–Reese Michael Buck
For questions or more info contact rich.price@santacruzfellowship.com (831) 252-4580 or Coach Eric Gerlach (Player Recruitment) eric.gerlach@cabrillo.edu (831) 479-6592.