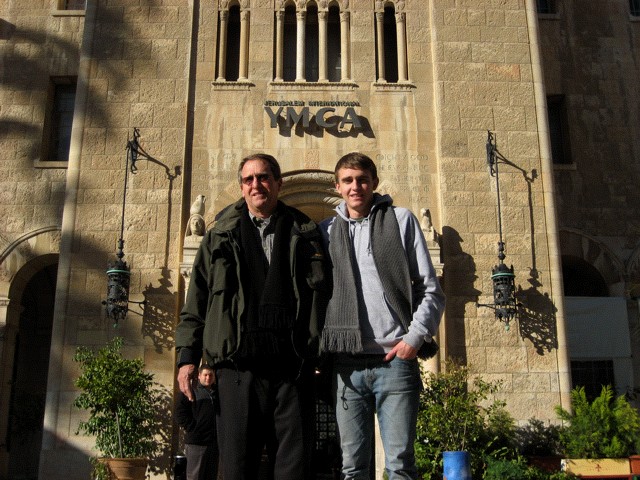 Rich and Barrett visit the Jerusalem YMCA in 2007
From July of 1974 to July of 1976, just after college, Rich had the privilege of serving as one of the YMCA World Service Workers. The World Service Worker program was established in the 1880's and became the model later adopted by the Peace Corps. His assignment was to direct the Youth Department at the Downtown Jerusalem YMCA. The staff was predominantly Christian Palestinians and the members primarily Jewish. As part of the work, they regularly brought both Palestinian and Jewish youth together around sports, giving them the opportunity to get to know each other.
What is going on in Israel and Gaza is heartbreaking, especially for those who have spent a significant amount of time there and know people on both sides of the conflict. There will be no 'winners' in this war. We realize that many of you are also deeply disturbed by this war. In this season we would like to offer this prayer to our community. The Mother's Prayer for Peace, originally written in Hebrew and Arabic by Sheika Ibtisam Mahameed and Rabbi Tamar Elad-Appelbaum. The English translation is by Rabbi Amichai Lau-Lavie, 2014.
God of Life:
You who heal the broken hearted, binding up our wounds.
Please hear this prayer of mothers.
You did not create us to kill each other.
Nor to live in fear or rage or hatred in your world.
You created us so that we allow each other to sustain Your Name in this world.
Your name is Life, your name is Peace.
For these I weep, my eye sheds water:
For our children crying in the night,
For parents holding infants, despair and darkness in their hearts.
For a gate that is closing – who will rise to open it before the day is gone?
With my tears and with my constant prayers, with the tears of all women deeply pained at these harsh times
I raise my hands to you in supplication. Please God have mercy on us.
Hear our voice that we do not despair, that we will witness life with each other, that we have mercy one for another, that we share sorrow with the other, that we hope, together, one for another.
Inscribe our lives in the book of Life.
For Your sake, our God of Life, Let us choose Life.
For You are Peace, Your world is Peace and all that is Yours is Peace,
May this be Your will.
And let us say Amen.
Thanks to Spiritual Directors International for reprinting this prayer for us this week.
Rich and Jayne